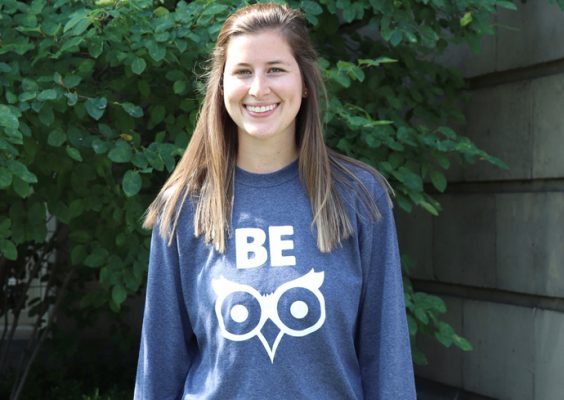 Senior Profile: Emily Graham '22 finds her community through public health education
A chance meeting halfway around the world in Bali, Indonesia turned out to be a pivotal stop in Emily Graham '22's journey to Syracuse. It inspired her to see what the University has to offer veterans, and she would not be disappointed.
As a Navy Corpsman, Emily trained in San Antonio, Texas before being posted to Walter Reed in Bethesda, Maryland and Naval Medical Center in San Diego, California during her career six years in the Navy. Her husband Nicholas accompanied her to every post and completed her undergraduate studies entirely online. When he was admitted to Syracuse Law School, Emily had one year left in her military enlistment. Nicholas postponed entry for a year while Emily completed her service and considered higher education options. She had started her nursing degree and was considering becoming a public health nurse, but did not have a great passion for the nursing part as much as the public health part. It was then that she and Nicholas went on a trip to Bali.
"We saw a man with a Syracuse shirt, which is unusual to see in this part of the world," she said. "When we spoke to him, it turned out that he was on the board of the IVMF [D'Aniello Institute for Veterans and Military Families]. He said I had to check out Syracuse. I was pretty set on going to nursing school to become a public health nurse, but I looked up Syracuse's public health program because of him. I'm glad I made the decision to change. »
Emily and Nicholas are both from Watertown, New York, and Emily says she never really considered attending Syracuse as an option. Emily's older sister is a nurse who also started her career as a Marine. Emily became interested in joining the Navy at a young age after attending her sister's boot camp graduation.
"I was so inspired. It was all I wanted to do," she says. "I never even considered college. I thought I'd be in the Marine Corps and become a nurse. , but it was good to do my own thing.
Emily has completed the Marine Corps part, heading to boot camp just 10 days after graduating from high school. Her work was to support nurses and strongly aligned with health education. She realized that public health suited her better and took the opportunity to reconsider her path when she discovered new options in Syracuse.
"My advisor Maureen Thompson is amazing. She has always been very communicative and a great contact," says Emily. "She sat down with me and figured out how I could use my military experience credits, and we created a whole schedule from when I started to when I graduated."
Emily graduated in May from the Falk College of Sport and Human Dynamics with a degree in Public Health with a concentration in Health Education. She has one year left in her 4+1 program and plans to complete her master's degree next year. She and Nicholas embraced campus life as military-bound students. An interesting aspect of their life after military service is that they took up beekeeping. Emily says she appreciates how inclusive Syracuse has been for military spouses like Nicholas, as well as older, non-traditional students, because she realizes a lot of spouses give up to keep up with their military. Importantly, Emily has also found meaningful connections through the veterans and public health communities on campus.
"I'm all about the community, which is interesting to see because when I got out of the military, I really felt the transition was harder than people would let you believe," says- she. "After six years, every day you are surrounded by people who fully understand this niche side of the world. You go out, and it doesn't become your whole identity anymore. It becomes part of you, and you have to understand the other part. I really miss that connection, so public health gave me the opportunity to create a community. I feel like I have found my place again after being a little disheveled after leaving the army.
Emily works as a Barnes Center peer educator at The Arch on campus and tries to keep the veteran community engaged and involved with as many resources as possible. For example, she helps educate her peers about college-specific behaviors, nutrition, healthy relationships, sexual health, mental health, and substance use harm reduction strategies. She chaired the planning committee for Take Back The Night, which empowers survivors to speak out against violence in sexual relationships. She also directs the Orange Recovery program, for students in recovery from substance use disorder.
"I love raising awareness and building community on campus, whether it's for victims of recovery or sexual or relationship violence. I know the veteran community is more at risk for these issues, so I always try to send the resources to the veteran community," she says. "It's really amazing how I got into public health. I always felt like I had an impact. It gives people tools and resources to use when they need them most, and I hope to continue to make a difference.